Herbal cosmetics
ARYAHERBAL creams have been prepared on an organic farm in Kerala mountains, using the highest grade virgin coconut oil, selected medicinal plants, and bee wax.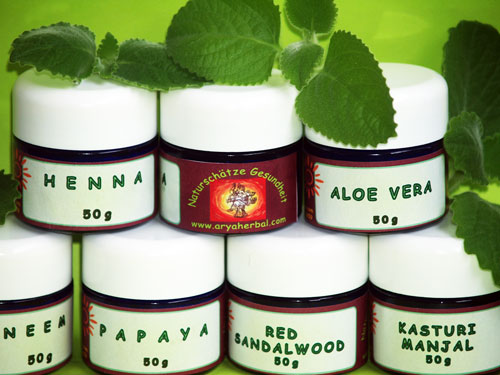 Neem cream
Neem (Azadirachta indica) has antibacterial, anti-inflammatory and antifungal properties. It is known to relieve itching of irritated skin, to reduce its redness, and to help the scars to fade. It soothes and moisturizes dry and cracked skin.
Papaya cream
Papaya (Carica papaya) – brightens and cleans the skin. It accelerates the removal of dead and damaged skin cells and dandruff and facilitates natural skin renewal. In addition, papaya is rich in vitamins and nutrients that help to make your skin spot free, naturally soft, supple and beautiful.
Aloe vera cream
Aloe vera (or A. Barbadensis) is used to restore the natural beauty of skin and keep it healthy. It has anti-inflammatory and scar reducing properties, is helpful for frostbite, burns, insect bites, blisters, and allergic reactions. It is also used for treating various skin conditions such as eczema, burns, psoriasis, inflammations, and wounds and will give you a cooling effect and relief from sunburn pain. It is an excellent skin moisturizer that improves the ability of the skin to rehydrate itself. Aloe vera is beneficial for cracked and dry skin making it smooth and glowing, and helps preventing the premature aging of the skin.
Kasthuri manjal cream
The rhizome of turmeric (Cucurma longa or C. aromatica) has long been used in traditional ayurvedic medicine for its anti-inflammatory properties as an antiseptic and antibacteral agent. It is very popular in cosmetic use. It brings a healthy natural glow to the skin and makes it beautiful. It restores or helps to maintain a youthful appearance by controlling wrinkle as well. In addition, Kasturi turmeric is also used to prevent unwanted hair growth. It gives a natural glow and a pleasant natural odour to the skin, and helps to keep it fresh for the whole day.
Red Sandalwood cream
The wood of Red Sandalwood (Pterocarpus Santalinus or Adenanthera pavonina) has antimicrobial properties. It is used as an effective ancient ayurvedic remedy for various skin conditions. Uses of sandalwood cream for face includes curing regularly occurring small pimples. It has a calming, cooling effect, and helps smooth the skin. When used regularly, it will help to control oiliness of the skin and tighten the skin pores. The result – a renewed complexion with noticeably soft, radiant, and replenished skin.