Massage oils - Dhanwantaram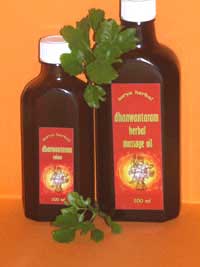 Named for the patron deity of Ayurveda, Dhanwantaram is fragrant, earthy oil containing a perfect blend of more than 40 different medicinal plants – many of which can only be found in the Indian sub-continent. This oil prepared according to the 5000 year old ayurvedic tradition is known to rapidly penetrate into underlying skin tissues, to expel toxins and impurities, and to restore skin metabolism. The herbal components in this unique oil have excellent nourishing and anti-inflammatory features. Dhanwantaram supports the regeneration of the skin-cells, improves skin tone, texture, and the blood circulation. It helps to relieve numb muscles and blockages in the body caused by stress, tones up muscles and thus the body feels released.
Applications
The pleasant smell and silky nature of Dhawantaram makes it suitable for routine use. It is also excellent Shirodhara and head oil. Dhanwantharam oil is good for all body types, especially Vata and Pita. It rejuvenates the body and skin, improves the skin complexion, increases immunity, tones up the muscles, eases muscular tensions, and promotes relaxation. It is also beneficial in case of neurological and rheumatic diseases, weakness, and chronic Vata conditions, and in pre- and post-natal care.
Ingredients
Sesame oil • paya (milk) • bala (Sida cordifolia ) • yava (Hordeum vulgare) • kola (Ziziphus mauritiana) • kullatha (Dolichos biflorus) • dasamula (zehn Würzel: Solanum anguivi, Solanum anthocarpum, Pseudoarthria viscida, Desmodium gangeticum, Tribulus terrestris, Aegle marmelos, Premna serratifolia, Gmelina arborea, Oroxylum indicum, Stereospermum colais) • dvimeda (Polygonatum cirrhifolium, Polygonatum verticillatum) • daru (Berberis aristata) • manjistha (Rubia cordifolia) • Kakolidvaya (Fritillaria roylei, Lilium polyphyllum) • chandana (Santalum album) • sariba (Hemidesmus indicus) • kushta (Saussurea lappa) • tagara (Valeriana wallichii) • jivaka (Malaxis acuminta)• rishabhaka (Microstylis wallichii) • saindhava (rock salt) • kalanusari (Trigonella foenum-graecum ) • saileya (Parmelia perlata) • vacha (Acorus calamus) • purnava (Boerhavia diffusa ) • asvagandha (Withania somnifera) • vari (Coleus vettiveroides) • kshirasukla • yashti (Glycyrrhiza glabra) • vara (Triphala, three fruits = Amalaki: Emblica officinalis, Bibhitaki: Terminalia bellirica, Haritaki: Terminalia chebula), • rasa • satahva (Anethum graveolens) • supyaparni (Vigna pilosa, Vigna radiata) • ela (Elettaria cardamomum) • tvak ( Cinnamomum zeylanicum) • patra (Pogostemon paniculatum)