Massage oils - Pinda tailam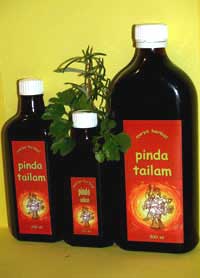 Pinda Tailam is prepared from Indian plants Manjishtha and Shariba. These two plants have been in use in India traditionally for making the skin smooth. Manjishta is known to have anti-rheumatic properties and shariba is a body relaxant. Pinda Tailam enters into the body pores making the skin and the joints in particular soft and smooth.
Application
Pinda tailam is recommended for a general massage. The water content in the oil is about 18 %. This ensures that the skin can breathe even when the oil is applied on the body for a long time. It is used for treatment of rheumatic and autoimmune diseases. The oil is best used warm.
Ingredients
Sesam oil • bee wax • Rubia tinctoria • Hemidesmus indicus • Rhododendron lepidotum