Massage oils - Prabanjana vimardanam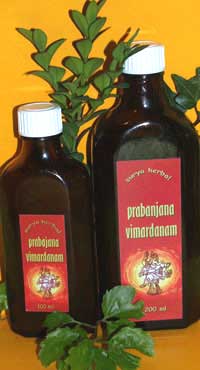 This oil is specially prepared to make the body soft and flexible. To preserve the active ingredients of the rejuvenating herbs used for preparation of this oil, the herbs are specially collected and processed in the most natural way.
Applications
Suitable especially for people of vata constitution. It makes the muscles soft and smooth and the body compact. It trims up the thighs and the waist enhancing the body figure.
Ingredients
sesame oil (sesamum indicum) • ghee (clarified butter) • milk • glycine max • oroxylum indicum • Aegle marmelos • Clerodendron phomoides • Gmelina arborea • Paederia foetida L. • Withania somnifera • Rhododendron lepidotum • Ricinus communis • Pongamia glabra • Calotropis gigantea • Crataeva nurvala • Moringa pterigosperma • Sida cordifolia • Elettaria cardamomum • Zingeber officinale • Terminalia chebula • Angelica • Foeniculum vulgare • Saussurea lappa • Acorus calamus • Plumbago zeylanica • Pinus roxburghii • Cedrus deodara